Zachte voering van EVA-geomembraan
Zachte EVA-voering met geomembraanvoering
EVA-geomembraan is een zacht membraan voor allerlei soorten waterbestendige constructies, speciaal voor ondergronds bouwen, waterdicht gebruik
EVA Geomembrane Liner-specificatie
1. Dikte: 0,5 mm - 3,0 mm
2. Breedte: 2.0m - 4.0m
3. Lengte: als verzoek
4. Kleur: wit, blauw
5. Standaard: strikt voldoen aan ISO9001: 2000
6. laden: 20ft container, 40ft container
7. Gratis monsters
EVA Geomembrane Liner Kenmerken:
1) Kan chemische erosie verdragen.
2) Een breder gebruik van het temperatuurbereik en een langere gebruiksduur.
3.) zeer zacht, gemakkelijk om te buigen voor allerlei bouwcondities.
ons geomembraan-type: Waterproof Membrane, Sbs Bitumen Membrane Self Adhesive, Geomembrane Pond Liner, Lldpe Geomembrane, Hdpe Geomembranes, Geocomposite Membrane.

EVA Geomembrane Liner Applicatie:
EVA Geomembrane wordt aanbevolen voor gebruik in lijntanks, waaronder houttanks, beton en metalen tanks.
EVA Geomembrane is ook geschikt als secundaire voering voor het voorkomen van vervuiling in geval van lekkage of chemische lekkages.
Voorkom weglekken van afval op het gebied van afvalbegroeiing of afvalwater of afvalstromen die het veld afvoeren.
Rivieroever, meer dam, mijn restanten, reservior, tunnel, vloeistofopslag zwembad
Lekken in het beddingbed en op een andere ondergrond voorkomen.
De vlakke richting die voor dam legt, de verticale richting die voor ongebruikte grond legt, die in de bouwomheining en het afval materiële gebied wordt gebruikt.
Gebruikt in zeewater of freshwanter-voerveld.
Gebruikt in grond voor weg, weg, spoorweg en waterdichte laag zwellende klei en natte ingestorte löss,
Lekken op dak voorkomen.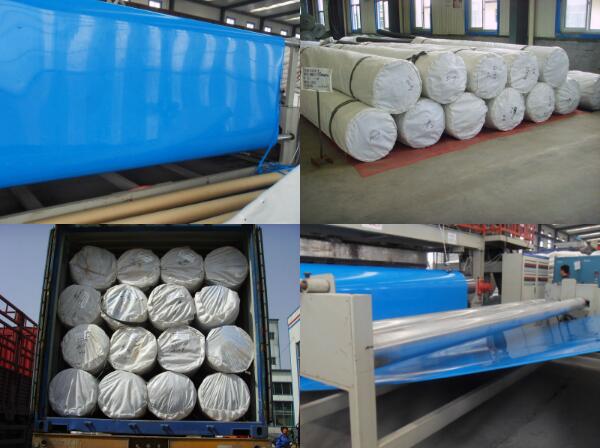 Product Categorie : Geosynthetics > Geomembrane voering