4000g Geosynthetic Clay Liner (GCL) voor vijvers
Bentonite GCL is een type drainagecomposiet , het is zelfdragend en zelfdovend aan beton of andere constructies.
Het is gemaakt van een niet-geweven geotextiel , een natuurlijke, sodische bentonietlaag, met of zonder een PE- geomembranenlaag ( HDPE vijverfolie ) en een geweven geotextiel .
Deze lagen zijn verbonden met een dichte felter die het bentoniet een zelfopsluiting maakt met gecontroleerde expansie. Met dit systeem is het mogelijk om slippen en de opeenhoping van bentoniet als gevolg van snijwonden, scheuren, verticale toepassingen en bewegingen te voorkomen.
Bentonite GCL- specificatie
1.GCL-NP; GCL-OF, GCL-AH
2. Eenheidsgewicht: ≥ 4000g
3,4 m - 6 m op rolbreedte
Bentonite GCL- eigenschap
1.Zoals water tegenkomt
2. lange tijd waterdichting en vriendelijk voor het milieu
3.Separation, versterking, bescherming, filtratie en gemakkelijk voor bouw
Bentonite GCL Geosynthetic Clay Liner (GCL) Toepassing
(1) Stedelijke techniek, ondergrondse technische metro's, gebouwen en daken reservoirinsijpeling.
(2) Milieusanering, afvalstortplaatsen, rioolwaterzuiveringsinstallaties, industrieel afval.
(3) water, rivieren, meren en stuwdammen kwel, verstopping, versteviging.
(4) Tuin kunstmatig meer golfbaan vijver kwel en ga zo maar door.
(5) Petrochemische, mijnbouw en andere gebieden van technische kwel, lekkage, enz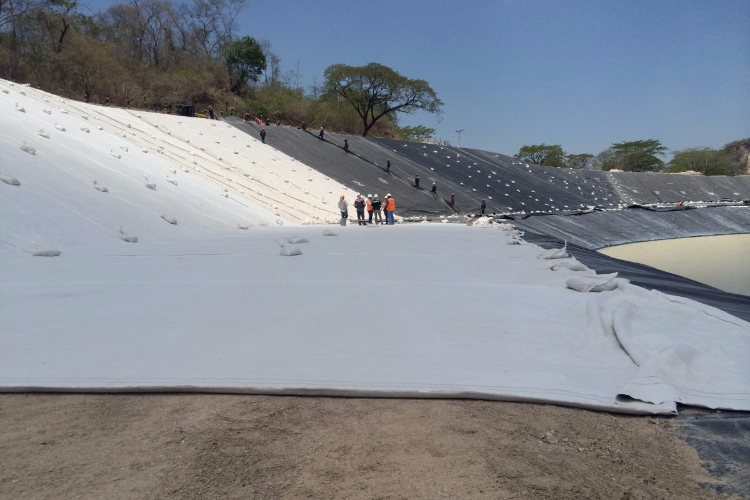 Product Categorie : Geosynthetics > geocomposieten