Geosynthetic Clay Liner (GCL) Met HDPE Geomembranen
Omschrijving
Geosynthetic clay liner met PE Geomembrane zijn hoogwaardige naaldgestuurde, met omgevingsinvloeden versterkte composieten die twee duurzame geotextiele buitenlagen combineren met een uniforme kern van natuurlijke natriumbentoniet om een ​​hydraulische barrière te vormen. Vezels van het niet-geweven geotextiel worden met een naald door de laag bentoniet gestanst en opgenomen in het andere geotextiel (ofwel een geweven of niet-geweven geotextiel). Bij gehydrateerd onder een opsluitende belasting zwelt het bentoniet op tot een klei-laag met lage permeabiliteit met de equivalente hydraulische bescherming van enkele voeten samengeperste klei.

Natrium bentoniet korrel bestaat uit natuurlijke klei anorganische minerale materialen verwerkt met een hoge expansie en een hoge waterabsorptiecapaciteit, lage permeabiliteit bij natte prestaties, voornamelijk voor waterdichting.
Geosynthetic clay liner met PE Geomembrane Specification
1. GCL Gewicht: 300GSM - 6000GSM
2. GCL-breedte: maximaal 6 meter
3. GCL-lengte: als verzoek
4. Type GCL: met PE Geomembrane of Zonder
5. GCL-laag: eerste laag - geweven geotextiel
Tweede laag - expansie bentoniet
Derde laag - niet-geweven geotextiel
Vierde laag - PE Geomembrane of Without
6. laden: 20ft container, 40ft container
7. Gratis monsters, snelle levertijd
We kunnen ook andere Geosynthetics-materialen van superieure kwaliteit leveren, zoals Geotextile Fabric, Fiberglass Geogrid, Geotextile Geocomposite,
Hdpe Geocell, Hdpe Geogrid, Composite Geonet, Jacquard Carpet.


Geosynthetic clay liner met PE Geomembrane Property
Geosynthetic clay liner met PE Geomembrane in vergelijking met de verdichte klei voering, het is klein, lichtgewicht, goede flexibiliteit, goede afdichting, schuifsterkte, eenvoudige constructie, differentiële afrekening van de voordelen van aanpassing.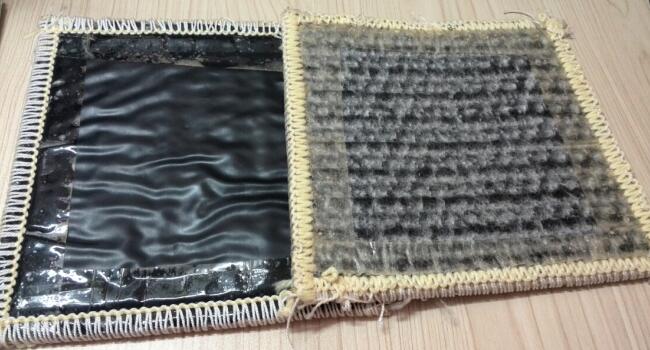 Geosynthetic clay liner met PE Geomembrane Application
Geosynthetic clay liner voornamelijk gebruikt in milieutechniek van stortemissies, ondergrondse reservoirs, ondergrondse infrastructuurvernauwingsprojecten, afdichtingsoplossing, segregatie, anti-lekkage, goed effect, anti-destructief.
Is van toepassing op nieuwe civieltechnische beplante daktuin-, kelder-, dak- en andere waterprojecten; Waterprojecten

metro, spoorweg, gemeentelijke wegen, lichte industrie, aardolie en metallurgische industrie;

grondwerkherstel en versterking van anti-kwelproject;

Woestijnbestuur, milieuhervorming, stortplaats, kunstmatige meren, door de mens gemaakt landschap bodem waterdicht deken een groot gebied;

Water Conservancy-projecten was zelfs beter, in een groot gebied van waterinsijpeling bouw van gebouwen, kunnen kleine reservoir, dam, irrigatiekanalen, reservoirs vijvers, enz. een breed scala van toepassingen hebben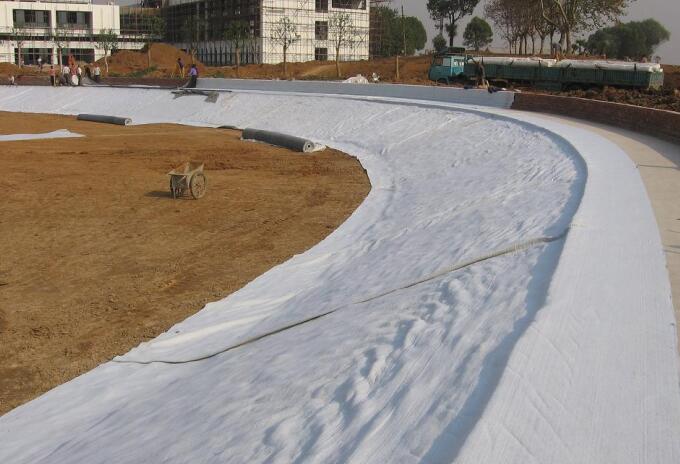 Product Categorie : Geosynthetics > geocomposieten