300GSM - 6000GSM Geosynthetic Clay Liner
Beschrijving 300GSM - 6000GSM Geosynthetic Clay Liner
Geosynthetic clay liners (gcls) zijn hoogwaardige naaldgestuurde, met omgevingsinvloeden versterkte composieten die twee duurzame geotextielachtige buitenlagen combineren met een uniforme kern van natuurlijke natriumbentoniet om een ​​hydraulische barrière te vormen. Vezels van het niet-geweven geotextielweefsel worden met een naald door de laag bentoniet gestanst en opgenomen in het andere geotextiel (hetzij een niet-geweven of geweven geotextiel). Bij gehydrateerd onder een opsluitende lading zwelt het bentoniet op om een ​​kleimaag met lage permeabiliteit te vormen met het equivalente hydraulische bescherming van enkele voeten gecompacteerde klei.

Natrium bentonietkorrels bestaan ​​uit natuurlijke klei anorganische minerale materialen verwerkt met hoge expansie en hoge waterabsorptiecapaciteit, lage permeabiliteit bij natte prestaties, voornamelijk voor waterdichting.

Geosynthetic Clay Liner in vergelijking met de verdichte klei-voering, het is klein, lichtgewicht, goede flexibiliteit, goede afdichting, schuifsterkte, eenvoudige constructie, differentiële regeling van de voordelen van aanpassing.
300GSM - 6000GSM Geosynthetic Clay Liner Specificatie
1. GCL Gewicht: 300GSM - 6000GSM
2. GCL-breedte: maximaal 6 meter
3. GCL-lengte: als verzoek
4. Type GCL: met PE Geomembrane of Zonder
5. GCL-laag: eerste laag - geweven geotextiel
Tweede laag - expansie bentoniet
Derde laag - niet-geweven geotextiel
Vierde laag - PE Geomembrane of Without
Zijn er nog andere behoeften, zoals gabionmanden, Drainage Geonet, geogrids, Hdpe Geocell, Draining Board.
6. laden: 20ft container, 40ft container
7. Gratis monsters, snelle levertijd
300GSM - 6000GSM Geosynthetic Clay Liner-toepassing
Geosynthetic clay liner voornamelijk gebruikt in milieutechniek van stortemissies, ondergrondse reservoirs, ondergrondse infrastructuurvernauwingsprojecten, afdichtingsoplossing, segregatie, anti-lekkage, goed effect, anti-destructief.
Is van toepassing op nieuwe civieltechnische beplante daktuin-, kelder-, dak- en andere waterprojecten; Waterprojecten

metro, spoorweg, gemeentelijke wegen, lichte industrie, aardolie en metallurgische industrie;

grondwerkherstel en versterking van anti-kwelproject;

Woestijnbestuur, milieuhervorming, stortplaats, kunstmatige meren, door de mens gemaakt landschap bodem waterdicht deken een groot gebied;

Water Conservancy-projecten was zelfs beter, in een groot gebied van waterinsijpeling bouw van gebouwen, kunnen kleine reservoir, dam, irrigatiekanalen, reservoirs vijvers, enz. een breed scala van toepassingen hebben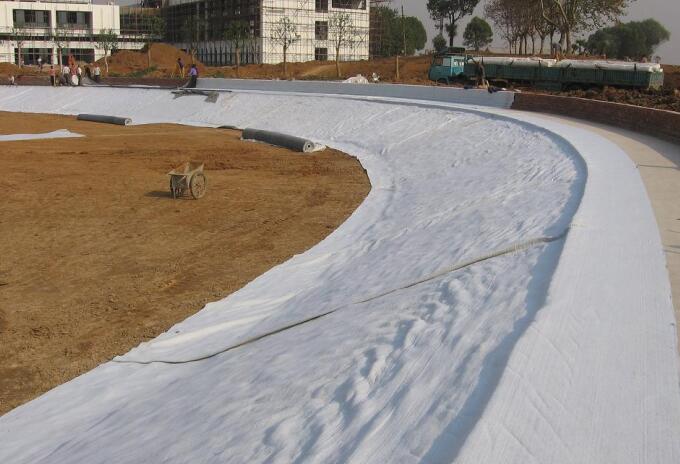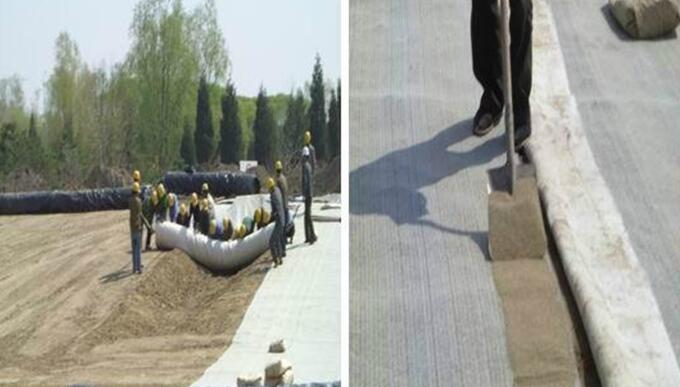 Product Categorie : Geosynthetics > geocomposieten